ATTRACTIONS OF THE BOCAS DEL TORO REGION: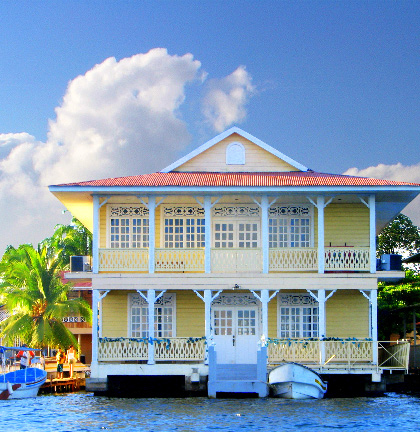 THE PERLA PARAISO real estate property is located in the one-of-a-kind region of Bocas Del Toro, an eco-wonderland of national parks and some of Panama's most unique destinations for tourism and outdoor recreation.
Bocas del Toro is a province of Panama. The capital is the city of Bocas del Toro, found on the island of Isla Colon. The population of the province numbers some 89,300 people. Its extension is 8,745 kilometers and is formed by 9 principal islands. There are many plantation of plantains here, often called the oro verde or green gold of Central America.
CARIBBEAN SEA

Pristine beaches with year-round warm weather, sun and surf.

RIO CHIRIQUI

Recognized as one of the best rivers in the world for white-water rafting, this fast-flowing river also offers excellent tarpon fishing, kayaking and a gorgeous scenery.

ISLA BASTIMENTOS

NATIONAL MARINE PARK

A secluded refuge for a rich array of Caribbean wildlife, visitors to this national park can experience coral reefs, tropical reptiles and birds, and nesting sea turtles.
LA AMISTAD INTERNATIONAL PARK
A cross-border park and wild life refuge shared by Costa Rica and Panama, this park is a UNESCO World Heritage Site and the largest nature reserve in Central America. Most of the land has not been explored, due to the difficulty of the terrain, making this a one-of-a-kind place for ecotourism and a home to a rich diversity of plants wildlife. Residents, tenants and tourists will enjoy the amenities and lifestyle attractions of this gorgeous and growing region of the Caribbean.